In celebration of International Kissing Day, we're highlighting the most memorable and heart-warming kissing scenes from our fave films. From the sexy and forbidden to the adorably awkward, it's time to check out our Top 10!
10. Step Up –Tyler and Nora

I mean if you take a beautiful girl and an even hotter guy and get them to dance sensually together, they're bound to catch feelings! And their on-screen love was so passionate and intense that it spilled through into their real lives!

9. Clueless – Cher and Josh
They literally spent the whole film, bickering, arguing and then flirting and teasing each other. So the precious moment when their true feelings for each other are revealed –made us let out a sigh of relief! It was so cute that we can over look the weird step-sibling thing.
8. Miss Congeniality – Eric and Grace
There's no denying  the subtle chemistry between Eric and the fierce Gracie-Lou Freebush that riddled throughout the movie. Even though he pretends not to feel anything – we can see the care in his eyes. The case ending gave him the ideal opportunity to plant that game-changing kiss on her lips and reveal his true feelings *sigh*.
7. Spiderman – Spiderman and Mary Jane
Is there a more legendary moment than the hot upside-down kiss shared by Spiderman and his long-time crush Mary Jane? You would think trying to kiss upside down would be an awkward experience, but they made it seem pretty perfect to be honest.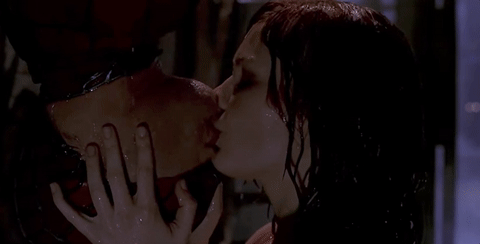 6. Hitch – Albert and Allegra
Stealing the show from Alex and Sara, is the iconic duo Albert and Allegra! So you're telling me if a cute geeky guy threw down his inhaler and plucked up the courage to kiss you that you would turn down him down?! There's no way! Even Allegra couldn't resist – he made her feel special and that's all we really want.
5. Princess Diaries – Mia and Robert
The stunning Mia finally realises who her real friends are and who really loves her for who she is. And that kiss, in that enchanting garden was beautiful! It's the perfect fairy-tale love story. And I don't know about you, but I'm still waiting for that foot-popping kiss to happen to me IRL.
4. Baz Lurhman's Romeo and Juliet
Who can possibly forget when the star-crossed lovers Romeo and Juliet had a cheeky make-out sesh, when nobody was looking. The intense glancing and staring beforehand definitely gave us butterflies.
3. Twilight – Edward and Bella
Hands down the best and most dramatic couple of our millennial generation; our badass vampire Edward was ready to risk it all, as he planted a passionate kiss on his love Bella. I guess it was worth the risk of you know – death.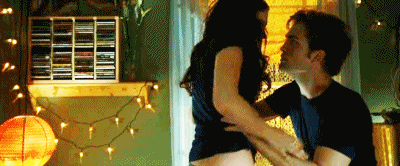 2. Titanic – Jack and Rose
I know you were waiting to see if the Titanic made the list! Of course it did! No list would be complete without including the mother of all romance. The tragic love story between Jack and Rose still pierces our hearts. A tender smooch on the deck of a gorgeous ferry – can you say relationship goals!
1. The notebook
"I wrote you every day for a year!" Cue the pouring rain and then…BAM! Allie and Noah had by far the most heart-wrenching kiss of our entire generation. It's such a classic that we've frequently curled under the blanket with some ice cream repeating the scene over again. No. it's just me – ok